"So what investment does a typical business make annually on completing their budgeting and forecasting cycles using Excel?"
For medium sized businesses that do monthly cycles and have a dozen contributors, it could well be 1.7 FTEs (Full Time Equivalents). If you could slash your planning cycle times by 90%, you might well gain $150,000 in efficiency dividends annually.
We challenge you to calculate planning cycle FTEs for your business based on the model in our article – remember, most tend to significantly underestimate the time spent by all personnel on their businesses planning cycles.
This is how we calculated 1.7 FTEs – based on 1 budget cycle and 12 forecast cycles every year, with up to a dozen contributors: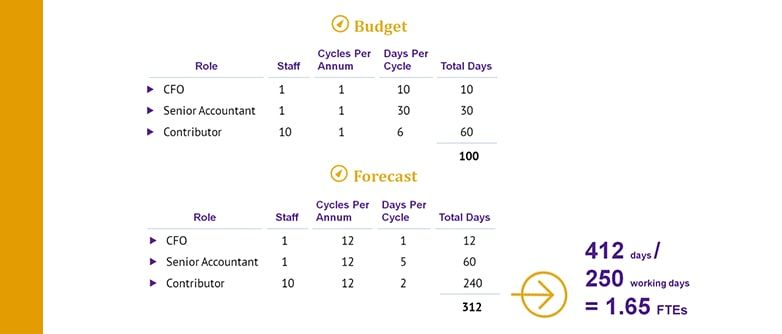 It is proven that by adopting best of breed tools, a business can achieve at least a 50% reduction in time ($85k) through improved efficiency and better processes. In some cases, this reduction might be as high as 90% ($150k). Analysing the value proposition based on staff time investment alone is clear enough, but what value is placed on other benefits such as these?
Improved accuracy through better collaboration and elimination of errors
The benefit of more frequent planning cycles due to a less onerous process
Finance and non-finance staff utilised on more productive and value adding activities
Even ignoring these benefits, the ROI is always less than 12 months and could be as little as 3 months for some organisations. It is such a compelling business case, yet many organisations continue to experience Excel hell month in, month out.
Most contributors loath the forecasting cycle – predominantly because the process is mired with manual and time consuming tasks that consume inordinate amounts of time. As finance people, we can't blame them for that, yet we can make a difference. Many budget managers avoid moving away from spreadsheets to undertake planning tasks, because they believe they lose visibility and control over the process – surrendering it to IT people, or worse still, external consultants.
This may have been true 10 years ago, but today there are some outstanding finance-friendly solutions that can deliver the benefits of a systemised solution beyond the Excel spreadsheet, but provide the transparency and customisability for the finance team to independently alter their models to suit their ever changing business over time.
It might sound too good to be true, but it's not. Why don't you try it for yourself – free. Contact QMetrix today for an obligation free discussion, demonstration or trial.