Unearth deep insights with IBM Cognos Analytics, powered by Artificial Intelligence
Put the power of deep data exploration in the hands of every business user. QMetrix Cognos Analytics Consultants can show you how.
Looking for a Business Intelligence and Analytics solution?
Uncover hidden insights with a Certified IBM Cognos Consultant
Easily expose insights, simplify and streamline processes, create and share analyses, and reduce time on data preparation through automation and built-in intelligence – on one integrated platform you can work with all types of data to drive better decisions for the business.
How QMetrix can help your business
At QMetrix we no longer take on new IBM Cognos Analytics projects. While Cognos remains a powerful technology in the business intelligence and analytics space, our focus is now on other areas. Our expert Cognos consultants  remain with us and continue to deliver value-add to our existing clients who want to leverage technology to understand their business to drive performance.  
Here are areas we can help you with:
Corporate budgeting, forecasting and planning doesn't have to be difficult and full of inefficient Excel sheets and processes. Our team can help deliver a powerful yet flexible planning solution to enable your finance team to focus on more value-adding activities for the business.  
Go from spreadsheets to strategy. Find out about QMetrix's Corporate Performance Management solutions.
Lost in a sea of data that just keeps growing? It's a common problem. But this can be solved with Master Data Management.
Instead of wasting valuable time and resources manually extracting and reconciling data, use MDM to consolidate data from multiple systems to achieve a single view of customer, supplier, product, employee, asset and more. With MDM, get data you can trust and data you can actually use. 
Connect everything and build a trusted source of truth. Find out about QMetrix's Master Data Management solutions.
As organisations grow, processes get more complex. With the right Forms and Workflow Automation solution, you can move away from paper-based forms and siloed processes to streamlined processes automated workflows that integrate with business systems.  
Streamline and automate manual processes to drive business performance. Find out about QMetrix's Forms and Workflow Automation solutions.
Use the right analytics tool to analyse
and share your unique business' data
Easily and quickly load data files and combine sources to prepare your data with IBM Cognos Analytics.
It is powerfully enhanced with Artificial Intelligence and Natural Language dialogue capabilities so business users can uncover details about their data and understand what is happening in everyday language.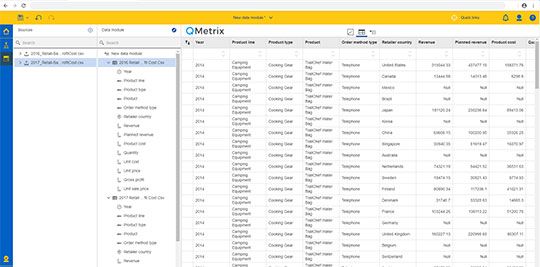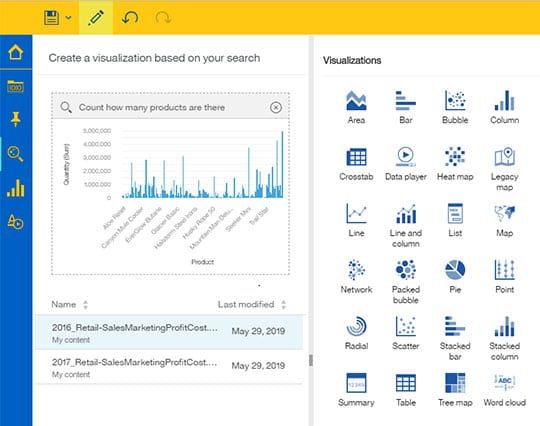 Our Cognos specialists will uncover hard-to-find answers by identifying interesting insights in your data using pattern detection.
It reveals relationships – even if you don't know what you are looking for – so you can highlight drivers and identify areas for change.
You can also perform what-if analysis on your data and understand the impact of decisions. Based on the data and your past behaviour, the system will recommend the best visualisations such as charts and graphs for easy analysis.
Present information in interactive dashboards and pixel perfect reporting that you can share across the company. As an interactive platform, users can explore the data themselves to derive insights.
With enhanced formatting and customisation options you have ultimate flexibility and control. The guided layout makes it easy for anyone to use and create template-based reports.
Deployments can be cloud based or on-premise and shared across all devices. Users can also schedule reports or enable report subscriptions, therefore reducing emails and enabling self-service.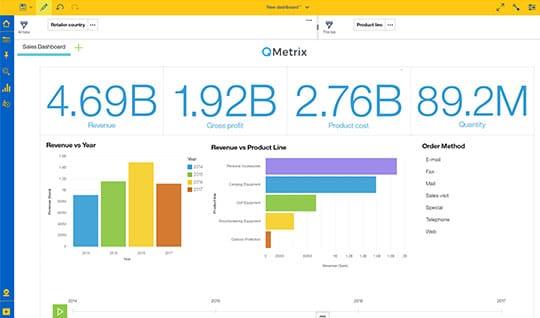 When less is more: From 17,000 to 2,000 reports
GPC needed a new reporting solution. They also wanted to move away from extracting data from one tool and reporting in Excel. With Cognos Analytics, they:

∙ De-duplicated, streamlined and enriched reports
∙ Delivered reporting automation and efficiency
∙ Have a self-serve tool for 650+ users
See what IBM Cognos Analytics can do and how it works. Watch the video.
Why IBM Cognos Analytics?
You can unearth, explore and share insights to drive better business decisions.
Use the AI assistant to ask questions about your data and receive easy-to-understand responses in natural language
Leverage the intuitive interface to build dashboards, visualisations and data models
Integrate offline data sets with corporate data sets in minutes to enhance specific analytical needs within your department
Use storytelling through quick animated presentations (like PowerPoint on steroids)
Use one interface for visual data exploration, self-service and operational reporting
Single, enterprise-wide business representation of corporate data allows end users to access data autonomously using common business terms
Cost-effective cloud or on-premise deployments with access on any device through a web browser
Brown Brothers needed to upgrade their business intelligence and analytics functionality
As they reached the limitations of their system, QMetrix devised an upgrade that was easier to support, provided immediate ROI, and laid the ground to take their capability forward through:

∙ Reporting and analysis tailored for each user's needs
∙ Advanced data modelling capabilities
∙ Simplified business environment which reduces risk
Frequently Asked Questions
"From guiding us through the licensing that best fit our needs to mentoring on best practice implementation methods, we found the team from QMetrix to be helpful, knowledgeable and responsive to our needs."
Andrew Holgate
Applications Manager, Brown Brothers
Put the power of deep data exploration in the hands of your organisation
Find out how you can unearth insights and understand your business with IBM Cognos Analytics.