Workday Adaptive Planning (Adaptive Insights) is a cloud-based Corporate Performance Management solution that makes planning easy and empowers finance teams to better support the business and drive efficiencies.
Workday Adaptive Planning continues to deliver improvements to the software through each release, and has maintained its position as a top performer on sites like Gartner, TrustRadius and G2 crowd for its features and high customer satisfaction rating.
With each release of Workday Adaptive Planning, we update this page so you can:
Get a breakdown of the latest features and functionalities added
See how the software has progressed
Decide what can be implemented for your organisation
The latest release is right below, but if you want to jump to other releases:
Workday Adaptive Planning (Adaptive Insights) release 2020 R2 – September 2020
Workday Adaptive Planning's 2020R2 release has seen a number of enhancements from all aspects of the interface including Reporting, Modelling and Integration. These enhancements have helped streamline the budgeting and planning process for many of our Workday Adaptive Planning clients.
Some of the more note-worthy enhancements are listed below.

Reviewing Sheets and Dashboards
A new preference feature has been introduced for sheets in dashboards that allow individual users to set their own sheet preferences. This allows for a more customised and personal approach as preferences can be set to suit individual needs and requirements.
Users are able to interact with perspectives as usual,. However when they change filters or a display option, their preferences will be saved and be applied the next time they open the perspective. This feature is completely unique, which means that each user can have their own preferences saved for the same dashboard – eliminating the need to provide multiple views for a different audience.

Context Filters
Context filters on sheets have become more dynamic and user friendly by controlling the filter options available. When an attribute is selected from a context filter, the subsequent level and dimension filters will only be populated with options relevant to the attribute. Not only will this feature make it easier for users to get the most value out of their sheets, but it will also eliminate combinations of attributes, dimensions and levels that are not applicable to each other.
Users are also now able to filter sheets based on whether an element Is Empty or Is Not Empty, which will become particularly useful in data validation processes and to check for data entry errors.

Reporting
Sharing and Reporting in both the web application and OfficeConnect has been improved in a number of ways.
Sharing reports has become more dynamic by allowing reports to be shared to specific users or user groups, as well as level access. Report owners can now nominate precisely who they want to be able to view their report.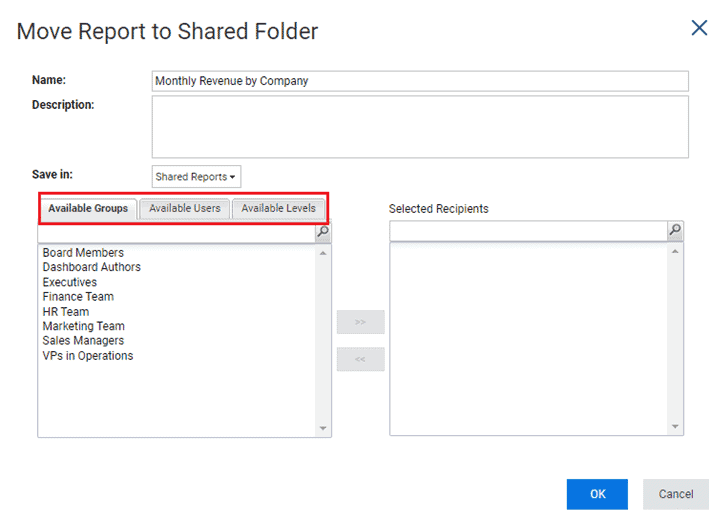 When a report is shared with a user, the user will also need to have the necessary level access to view the data. Whilst they may be able to run a report that has been shared with them, they will only see data if their level access allows them to do so.
Reports that are saved under a shared folder will be visible to all users who have access to the shared folder – however if a user hasn't been given specific access to a shared report the report will appear as disabled and it cannot be run.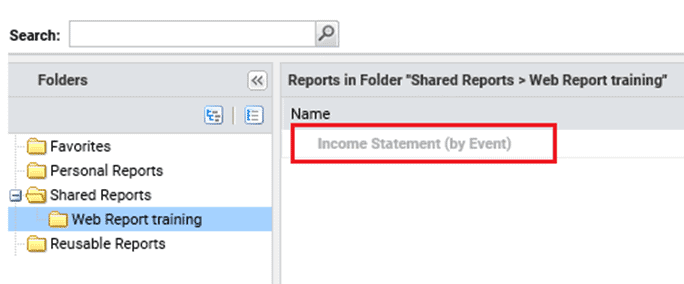 OfficeConnect reports have also seen some great enhancements.
In the previous 2020 release, a grouping concept was introduced which allowed children accounts of the same parent to be grouped. This meant that when a new child account was added into the model or an account was removed, the elements and groups could be refreshed and updated so that the change was visible in the report. Whilst this made the process of updating reports much more seamless, there were some concerns.
Any existing OfficeConnect reports built prior to the 2020R1 release were not eligible for grouping. That is – the only way to apply the grouping in an existing report was to rebuild the entire reports structure. This meant that a lot of users were not able to reap the full benefits of this feature.
In the 2020R2 release, this feature has been enhanced. Users are now able to update existing reports that were built prior to the 2020R1 release and utilise the grouping functions.
By selecting the accounts from the report, users can either use the Group property from the toolbar or from the context menu.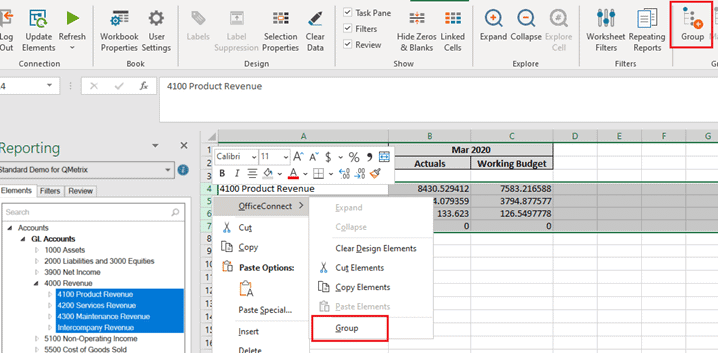 When using the grouping function, all elements must belong to the same parent element.
Groups can now be managed more easily through the Manage property.
The 2020R2 release has also removed the manual process of updating elements by providing a Workbook property to Include Update Groups in Refresh. This means by default, new elements will become available once the report is refreshed.

Modelling
The Workday Adaptive Planning 2020R2 release has introduced the concept of Intelligent Planning and Machine Learning to planning. Machine learning principles are applied to detect and predict any anomalies or outliers in planned versions. This is a brand-new concept for Workday Adaptive Planning, and to enable anomaly detection, users must submit a support ticket.
Using account formulas has become easier with the concept over override formulas. When a version is locked, account formulas are automatically saved as an override formular in that version. This allows edits and modifications to be made to the formulars without impacting the locked versions.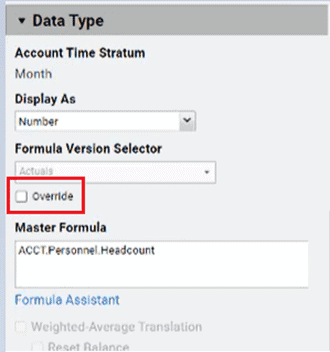 The process of updating shared formulas has also been enhanced. The previous process of modifying a shared formula required users to reload all of the shared formulars for a version back into Workday Adaptive Planning. In the 2020R2 release, there is an option to update and append, which enables users to modify and reload specific formulas.