Has your budget spreadsheet model spiralled out of control?
As your organisation grows and changes, the once manageable spreadsheet budgeting and reporting model soon becomes unwieldy, inefficient and a business liability.  Finding and compiling the required data consumes huge amounts of man hours and resources, which means it's not uncommon for yearly budgets to take many months to complete, with the risk of error being very high.
The best-run companies have streamlined the budgeting and forecasting process so it's more collaborative, agile and flexible, enabling Finance to effectively manage what should be a critical component of their business systems.  The reality is that most companies fail to achieve this outcome because they continue to rely on spreadsheets and are stuck in Excel hell, even though 88% of spreadsheets contain errors (Wall Street Journal April 20th, 2013).
Common spreadsheet pain points
Excel spreadsheets often cause more problems than they solve in today's business environment.  Spreadsheets are difficult to manage and therefore cannot ensure data accuracy.  Anyone can input a figure and send their amended version to whomever they like.  This makes it impossible to control the multiple versions doing the rounds at any given time, let alone create accurate forecasts or perform meaningful scenario analysis.
Spreadsheets are unscalable and therefore inflexible.  This quickly becomes unworkable in today's on-demand and fast-changing business environment.
Uncontrolled workflows make it difficult for finance managers to consolidate and keep track of the budget process where multiple contributors are involved.
Slow, manual input of data using bottom-up methodology, when in some cases top-down would suffice.  Further valuable time is wasted by large complex spreadsheets taking many minutes to open and recalculate.
Inaccurate formulas and broken links can result in material errors that are only discovered after budget acceptance by the board.
Regular planning cycles, whether they be weekly or monthly, are hamstrung by all these inefficiencies.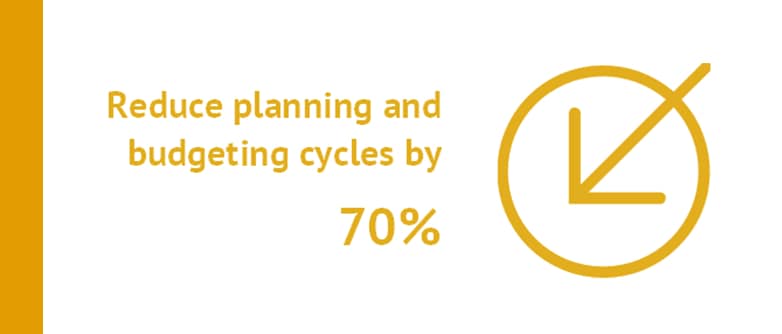 Upgrade to a proper planning solution to regain control
Moving away from error prone spreadsheets to a proper planning solution will allow you to regain control in the following ways:
Version control – manage access and controls for each version
Audit trails – to establish where figures have come from and when
Data integrity – by sourcing all reference data from existing ERP, HR or other business systems
Pre-population – input templates can be pre-populated with a base from historical or forecast data to speed up input and reduce manual error
Workflow management – provide visibility and transparency over your contributors across the the entire budget or forecast process
Conduct rolling forecasts – automatically roll the forecast numbers forward either monthly or quarterly depending on your forecasting cycle
Mobility – take advantage of mobile access so staff can view and contribute figures when they are on the road
Example Personnel Planning using Adaptive

QMetrix works with a variety of tools including Workday Adaptive Planning. Contact us for more information on the benefits of having a planning tool, as well as a free proof of concept trial.