With 10 years working in finance roles before moving into IT consulting, Brett provides a powerful combination of skillsets to guide and strategise with organisations to achieve the right outcomes from their technology investments. 
He has over 18 years' experience building solutions in Business Intelligence and Analytics, Data Warehousing, and Budgeting and Planning across industries including manufacturing, distribution, construction, government, healthcare, retail and sports.
At QMetrix, Brett leads efforts to ensure that our clients receive exceptional service, whilst also enabling potential clients to understand how the QMetrix team can solve their pain points through delivering outstanding solutions. He loves seeing how successful investments in technology optimise business processes and drive business profitability.
Brett is a Certified Practising Accountant (CPA), and holds a Graduate Diploma in Software Development and Bachelor of Business in Accounting.
Industry experience
FMCG   
Food services   
Sports   
If you come by our office, try and beat Brett in a game of table tennis. Otherwise, you'll find him keeping his kids entertained or watching AFL (mainly the mighty magpies!).
"I'm a great believer in luck, and I find the harder I work the more I have of it." – Thomas Jefferson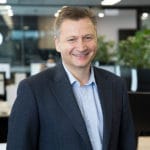 What challenges are finance teams in Allied Health and related organisations facing, and how these can be effectively tackled? Read the whitepaper here.
Meet Brett's team members
Have a corporate budgeting, forecasting or planning challenge? QMetrix has partnered with organisations across industries to harness the value of their data and enrich forward planning capability. Learn how.