11.1.4 – What's new, October 2019
Hot off the press! In the latest release of Cognos Analytics 11.1.4, you can expect some exciting new features and changes. Visualisation is a clear winner in this release which I will focus on in this post. The full release notes can be found here.
Redesigned welcome page
An updated user interface introduces an alert (including important maintenance announcements and information on new/changed features) banner and a new welcome page.
It is all about making the user experience as easy and informative as possible with quick access to walking through tours, videos and embedded samples.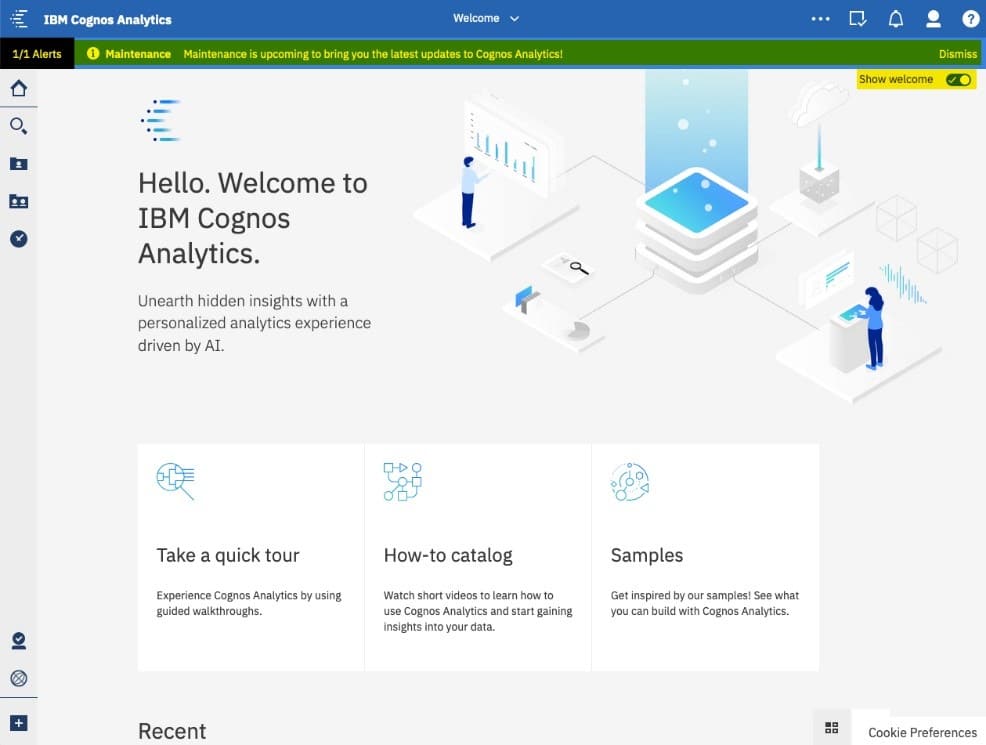 Dashboard and visualisations
Dashboard and visualisations, in general, receive a nice upgrade in many ways.
Have you ever being in a situation where you wished you could have easily created a custom visualisation for your business need?  Now you can! Developers can create and test custom visualisations (interactive viewer only as HTML output) locally, before making them available to other users.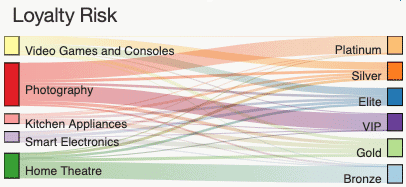 Forecasting is an automated set of tools for modeling time-dependent data. It leverages a popular class of exponential smoothing models to discover and model trend, seasonality and time dependence in the observed data. Automated model selection and tuning makes forecasting easy to use for all users.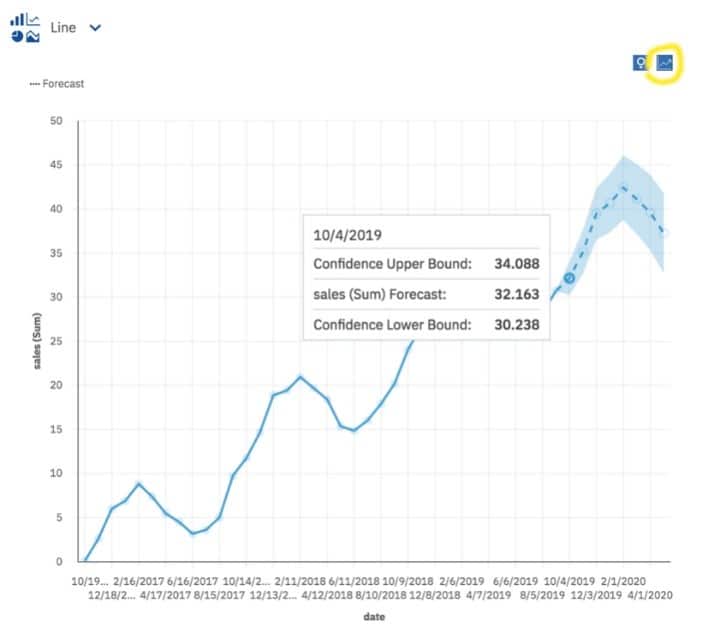 Visualisations get a boost to the legends as well. Now, you have a more compact design which uses the space more efficiently. The default position is now above the visualisation.  You can also adjust the legend by dragging the splitter in the visualisation.

Waterfall visualisation is 'finally' available in the dashboard.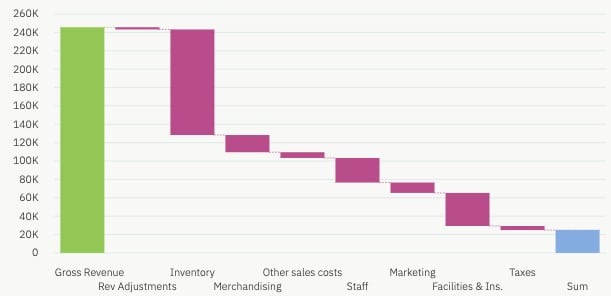 Context-based dashboard generation allows you to create a dashboard based on column data from your most recently generated charts.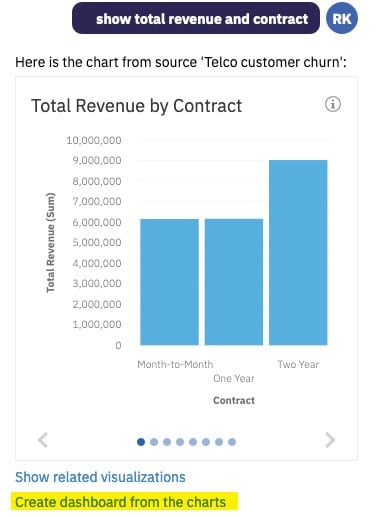 KPI visualisation is available in the dashboard.  One word to describe this one is 'wow'. Personally, I have been looking for something like this in the dashboard since the first version. Some of my clients would be very happy about this. In one visualisation, you can have two related measures (base value vs target), visual indicator (up/down arrows with colours), percentage change and sparkline in one space.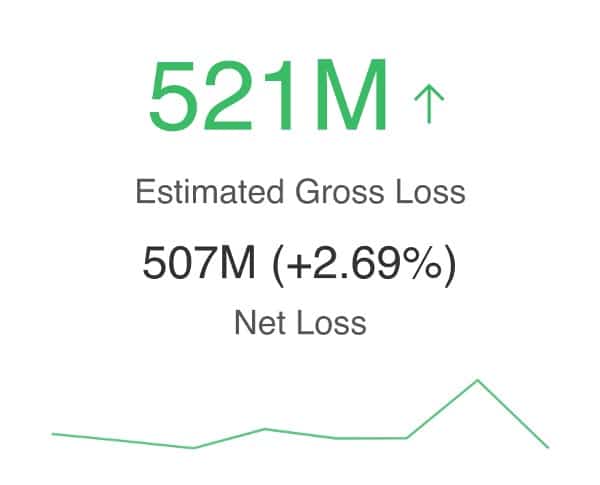 Improvements to crosstab and table formatting. Some new enhancements to crosstabs and tables include resizing column width and row height, formatting the cells in crosstab/table (separate from summary cells), text formatting, wrapping text on header rows and columns and dragging data from the 'Selected sources' pane onto a crosstab or table.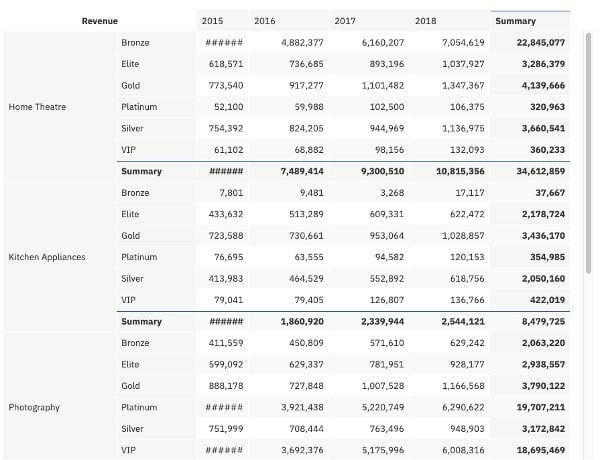 11.1.3 – What's new, July 2019
In the latest release of Cognos Analytics 11.1.3, there are several hot new features that might surprise you (in a good way!). The full release notes can be found here. 
Share your content by email
One of my favourite features in this release is the ability to share your content directly within Cognos. Better yet, you can also annotate the visual before collaborating with your colleagues.
Also, the Export to PDF/Print function creates a clean output compared to previous versions. Not to mention, there are more options with the mapping of visuals.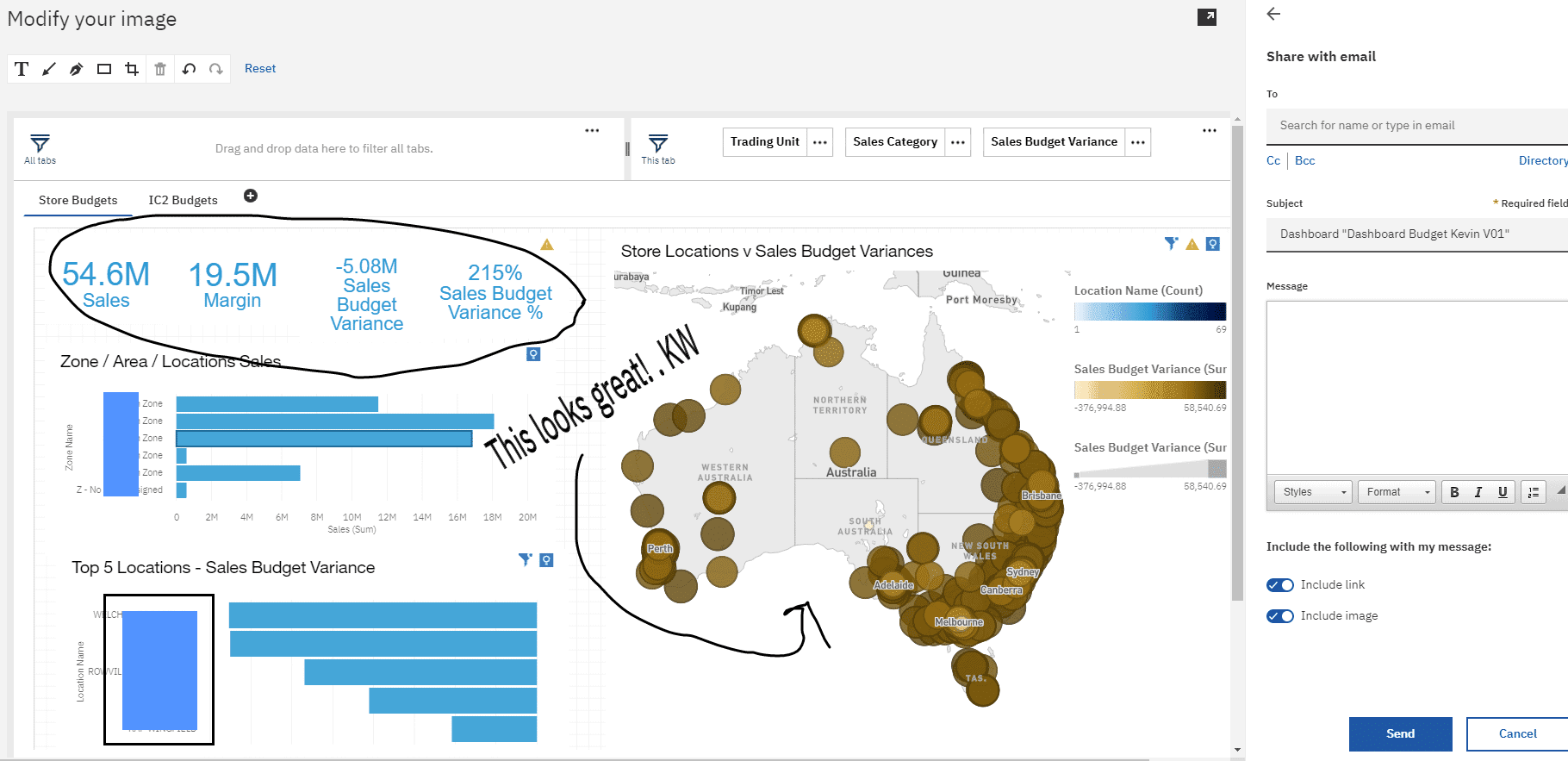 Target for bar and column visualisations
This is a very useful feature. You can use the Target data slot in bar and column visualisations in reports, dashboards, and explorations to show measures that need to be compared against a target value. It's a simple and clean solution.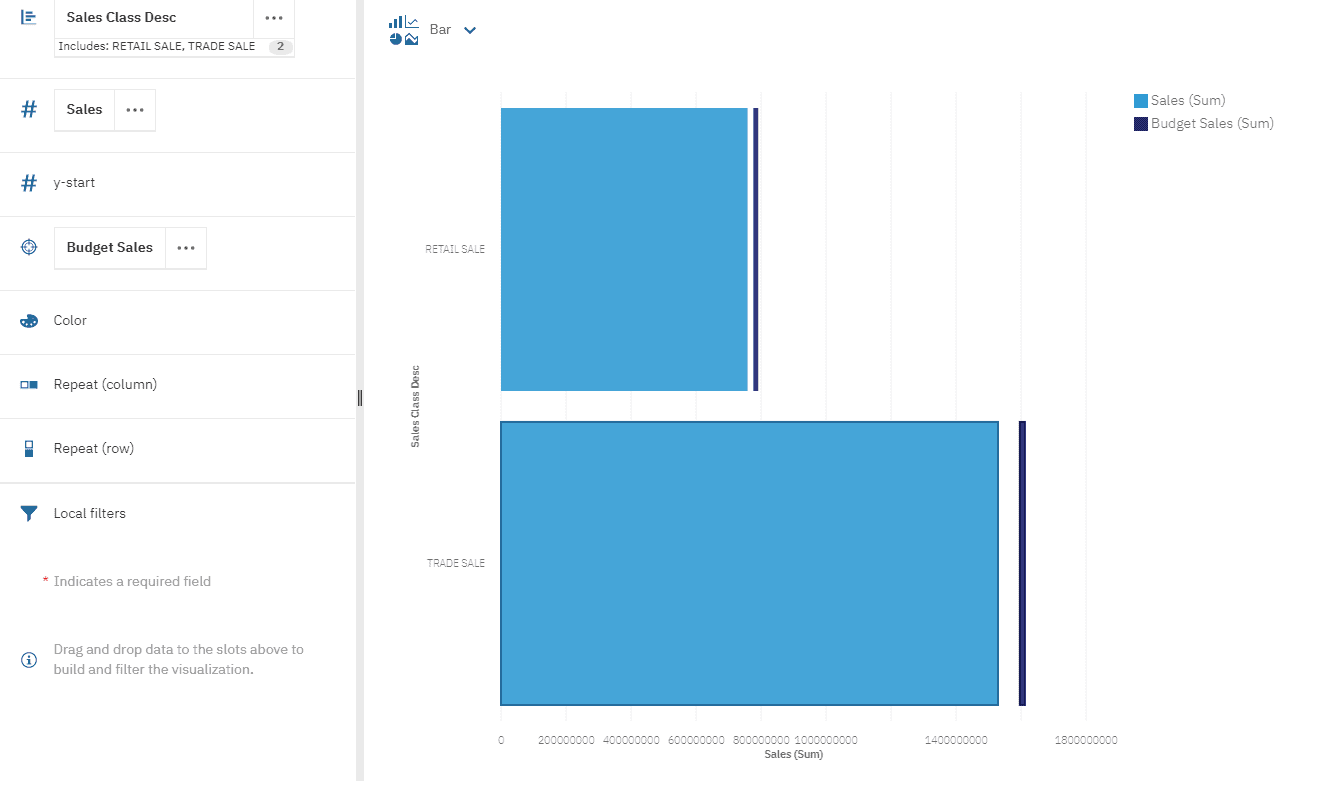 Enhanced Assistant capabilities
This is not the first time we have heard of NLQ (Natural Language Query; remember IBM Watson?) capabilities within Cognos. Besides offering type-ahead support to improve usability, and understanding modifiers like aggregations (eg, total, average, maximum) and filters (top/bottom), this improved AI assistant can generate a complete dashboard based on your data.
It is a perfect way to start your dashboarding journey by gradually understanding your data.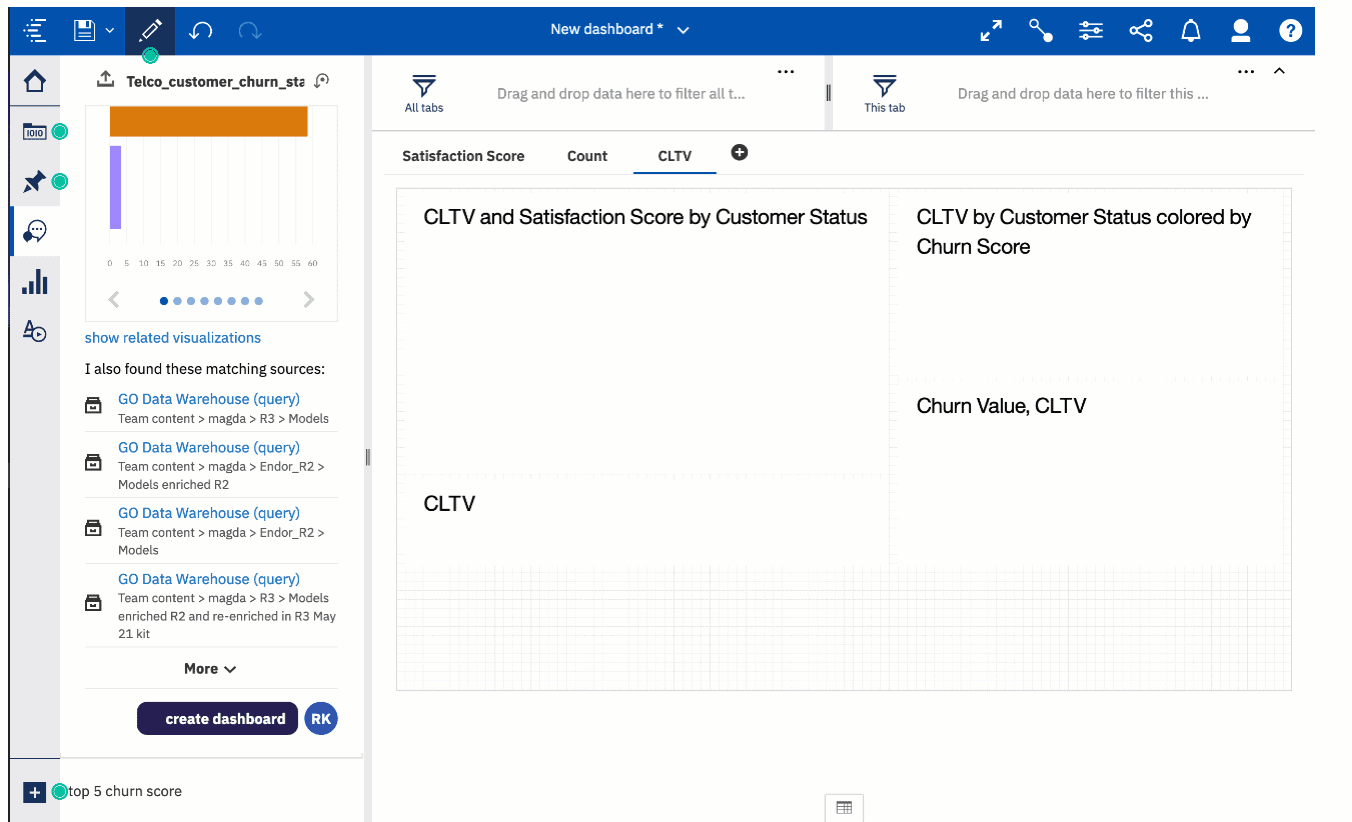 Explore only the primary relationships in your data by default
Exploration capability isn't new but in the latest release, it continues to improve its ability to find those hidden patterns and relationships within your data.
I must admit, the exploration feature probably makes more sense to the more advanced users or those wanting to wear a data science hat. Nevertheless, it is very interesting to be able to uncover relationships between fields in your data sets.
When you start a new exploration and select a data source, the default view is the relationship diagram showing primary relationships.
The field of interest is the focal point and is represented by a dark blue circle. Related fields are organised into purple circles. Lines connect the fields and represent relationships. The thickness of the line indicates the strength of the relationship.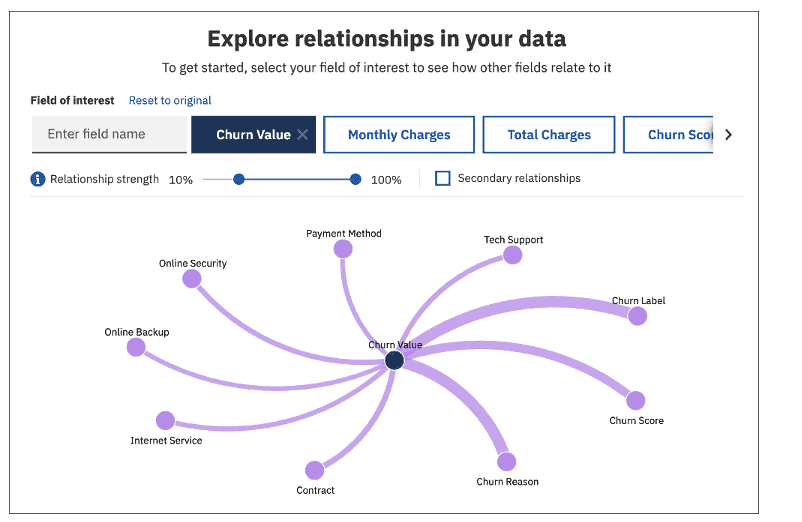 Primary relationships are the direct relationships between the field of interest and the other fields. Secondary relationships are the relationships between other fields directly or indirectly related to the target.
To view both primary relationships and secondary relationships, select the Secondary relationships checkbox.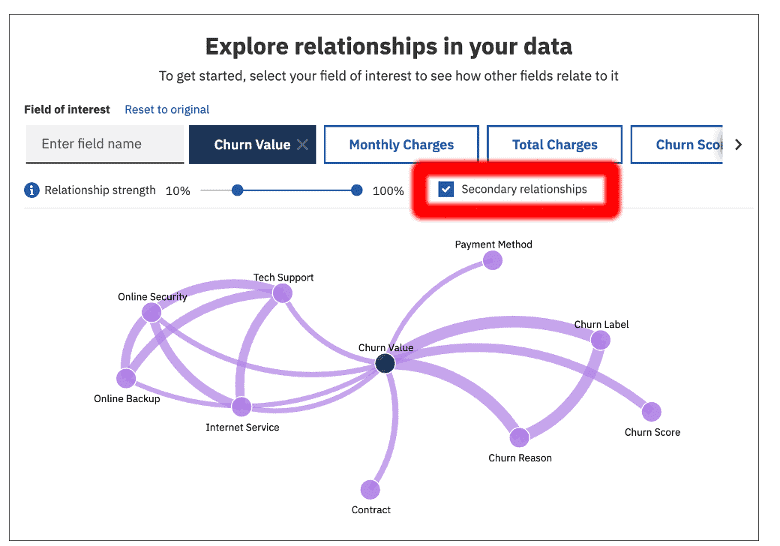 The system analyses the data and identifies interesting items. The relationship diagram plots these fields (use relationship strength slider/filter to control a range of field strengths) based on a statistical evaluation of related items.