Planning Analytics (TM1) is an industry leading enterprise planning software. IBM constantly upgrades its features through frequent releases.
We will update this page with each new release of Planning Analytics so bookmark this page and check back each time. You will: 
See how Planning Analytics has progressed
Get a breakdown of new features and functionality 
Evaluate what can be implemented for your business
The latest release is right below, but if you want to jump to other releases:
2.0.57 & 2.0.58 – What's new in Planning Analytics, October 2020
IBM has released a new update of Planning Analytics Workspace. This update includes an overhaul of the entire interface and well as several signification changes to functionality. These features include:
New look and feel
New charting and visualization in Books
More robust dashboarding
Guided planning
Predictive forecasting
Administration page changes

Note: 2.0.57 is an on-premise only release and 2.0.58 is a cloud only release. From a functionality perspective, they are the same.
New look and feel
PAW has updated their interface to align more with other IBM Products such as IBM Cognos. Some icons, such as the home button are now the same across various products.
Additionally, when you log in, the landing page is now separated into Applications and Plans, Reports and Analysis, Data and Models, and Administration. These tiles depend on your role, for example Administration is only available for Administrators.

New charting and visualisation in Books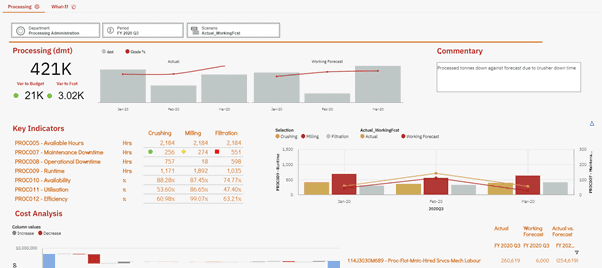 PAW has released a new series of charting and visualisation capabilities. The way users create dashboards have changed from creating an exploration and selecting a visualisation to specific visualisation interface.
In this new interface waterfall, bullet charts, column/line charts etc can be created without the need to create an exploration. There is also enhanced customisation such as custom colour palettes, repeating charts, labels etc.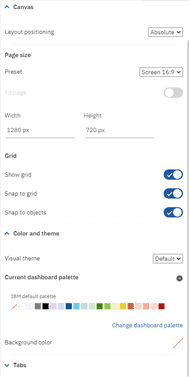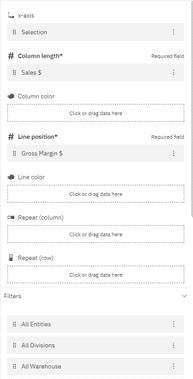 Furthermore, these customised features can be leveraged when creating dashboards for users. Not only can users create dashboards easily themselves now, but they are extremely interactive as well. This allows for more robust dashboarding than previously experienced.
Additionally, IBM has introduced some new visualisation features. You can now create waterfall charts within PAW. A waterfall chart shows the cumulative effect of positive or negative values sequentially. This illustrates the progression of a starting value across a period.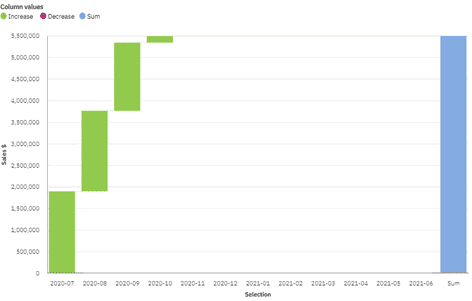 Guided planning
Guided planning enables managers to create a custom plan to facilitate their company's planning process. This means users can create a series of steps and assign users to each task for a smoother planning process.
A manager can create multiple stages, assign users/groups to a task, and set due dates. When users log in, they will see their assigned tasks and can use this plan as a guide as they move along the planning process. This enables managers to have full control and oversight of their planning process within the tool.
At present, guided planning is an entirely new concept. In future, it could be developed to have further interactions with the model itself, allowing for a more streamlined planning process.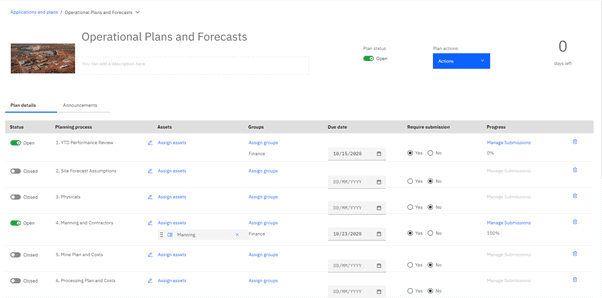 Predictive forecasting
IBM Planning Analytics Workspace introduced predictive forecasting to help model trend, seasonality, and time dependent in data. It is the first time IBM has introduced Artificial Intelligence capabilities to PAW.
The forecasting pushes data through a series of algorithms, recommending the 'best fit' or the algorithm that yields the best accuracy and fewest errors to predict a future value. This functionality can only be used with time dependent data and assists with time series modelling. PAW allows you to overlay predictive forecasts over existing data in the form of a visualisation (time series chart) as well as within an exploration.
In the current pandemic climate, I suspect that many businesses will not be able to utilise time series predictive forecasting due to wider uncertainty. However, I recognise there is great potential to incorporate other AI algorithms such as decision optimisation, natural language processing and anomaly detection in the future.
These solutions have the potential to greatly improve the speed and accuracy of reforecasting so let us hope this is just the beginning of IBM's journey to incorporate AI into the Planning Analytics product.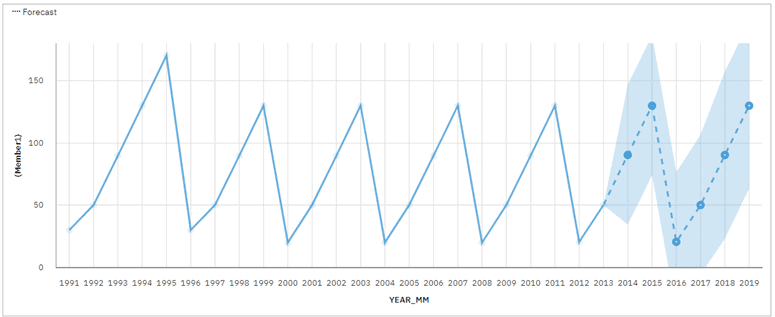 Administration page changes
The admin page has been reorganised. This will give you better insight into your environment and allow you to monitor the health of your databases more closely. The admin page includes task-specific tiles such as Users & Groups for better insight and maintenance of the overall environment.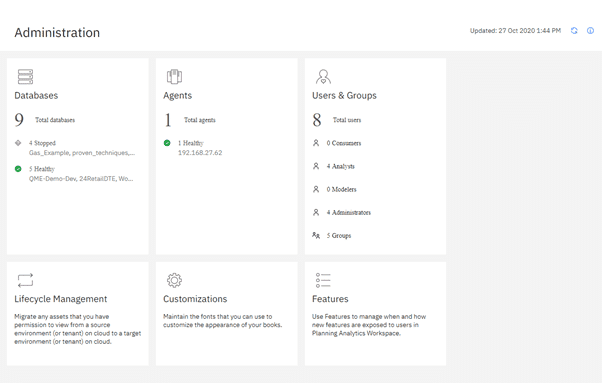 A lot of these new features require some time to familiarise yourself with. In particular, the new charting, guided planning, and predictive forecasting. To really take advantage of the functionality, it is worth investing time to learn how to use all these features.
2.0.54 – What's new in Planning Analytics, 15 July 2020
Set your cookie preferences
IBM has started to capture your usage on Planning Analytics Workspace on Cloud. These metrics will help improve the product and its capabilities. As not everyone is comfortable with allowing cookies to be captured, there are ways to manage your preferences.
Click on

 and then select Cookie Preferences.

Save a view to the TM1 database
You can now save a view to the TM1 database. Originally, any views saved in PAW would not exist in the TM1 database. This means a view can be used by TM1 processes as a data source to create or update objects/data.

Format numbers for an entire view
It is possible to apply formatting to an entire view via the shortcut bar. This can be done using the navigation pane below. Previously, formatting had to be applied to each row/column of data which had the potential to be an arduous process.


Keep in mind, these formatting changes are only available in PAW and will not be applied if the same view is opened in PAX.

Suppress zeros for an entire view
There is now the option to suppress zeros for an entire view via an All option. Previously, both Rows and Columns had to both be selected to suppress columns and rows. This is a simple UI update that will reduce formatting time.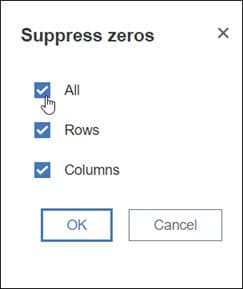 2.0.52 – What's new in Planning Analytics, 22 April 2020
Usability improvements in the set editor
The set editor has undergone a major overhaul. There have been a lot of updates to the features which enable easier customisation of a set.
You can now hide the pane you are not currently working on. This provides a bigger working space for editing a set.
Dragging and dropping members from the current set into the available members set has also been added. Intuitively, a lot of users attempt to update a set this way. By making this feature available, it is easier to reposition elements and customise a set.
The toolbar within the set editor has also been upgraded. This upgrade, in conjunction with the dragging and dropping, really elevates the ease in which one can navigate the set editor.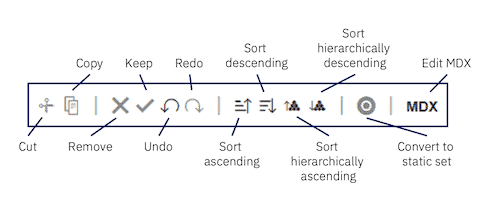 It is now possible to configure default view settings for the Available members and Current set panes. Whilst potentially not as useful for an everyday user, this will really help developers and report builders when customising Planning Analytics sets and books.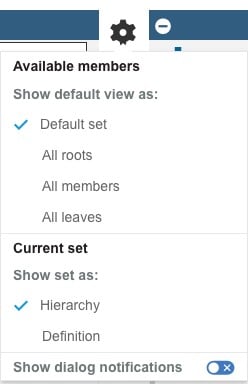 Download a log file that records changes to the availability status of your database
A log file is now available to download – it notes any actions that occur to a database. These actions: start, stop, restart and end process are only performed through the Planning Analytics Administration user interface.
This will help when reviewing a server and any actions taken against it.


Quick access to Save as and Reload book actions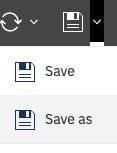 These buttons were previously available as part of the properties menu. The interface has now been upgraded to align better with IBM Cognos Analytics. Now the edit, save and refresh buttons match the Cognos interface, enabling consistency between the two products.

New book icons
In addition to updating the save/reload buttons, some other icons have changed. Once again, this unifies the IBM Cognos and Planning Analytics environments, providing a more cohesive feel.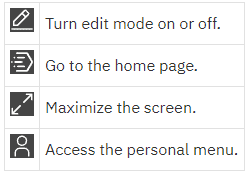 2.0.49 – What's new, 19 February 2020
Enable security access for processes
By default, security access is disabled when you create a new process. However, there is now an option to enable security access in a process which means you can now modify security within a process easily.
This is particularly helpful as you can use processes to bulk update security, which may be useful for customised security such as cell security. It provides another means of managing security outside of rules or manually updating access.

Hierarchies are now sorted alphabetically
By having hierarchies sorted alphabetically, this makes it easier to locate a specific hierarchy within a dimension. This will help when using the set editor to create explorations on the fly.
2.0.48 – What's new, 14 January 2020
Abbreviate numbers in views to thousands or millions
In a view, you can update the data format of a number quickly making it easier to read and customise books.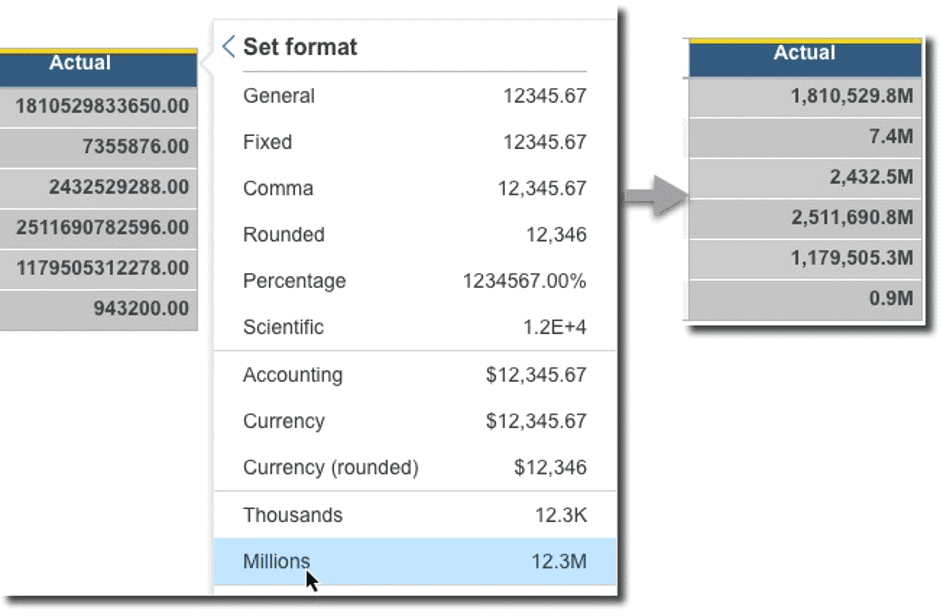 Identify broken button links when you migrate a snapshot
If you migrate a book with a button, but do not migrate the target of the button, the button will be broken after migration. The snapshot logs now display a list of broken buttons enabling you to identify and resolve any snapshot migration issues faster.
This is particularly useful if you have multiple environments over which you are migrating snapshots.


2.0.47 – What's new, 20 November 2019
Create a cube by importing a text file
You can now create and populate a cube without having to write processes by importing a test file into IBM Planning Analytics Workspace. Populating a cube via PAW creates a process in the background (so it actually automatically creates a TI).
Unfortunately, this method of upload is not dynamic and it's quite difficult to reuse the same process for any other scenario, or even with a new set of data. It is more suitable for an ad-hoc cube upload.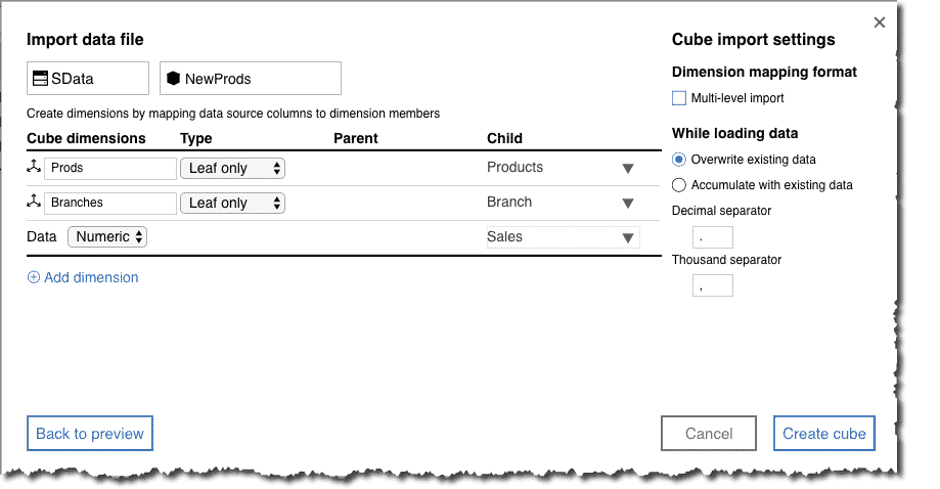 Improvements to importing into dimensions
It is now possible to update existing dimension hierarchies, whereas previously you could only import into an empty hierarchy. You can also create a dimension with multiple levels by importing via text file. This means more control over the dimension structure and ease of use.

Apply aggregate calculations in a view
You can now apply aggregate calculations to two or more values in a view and use these calculations to summarise values that can't simply be added up or averaged. This means more completeness when creating reporting views to analyse data/trends.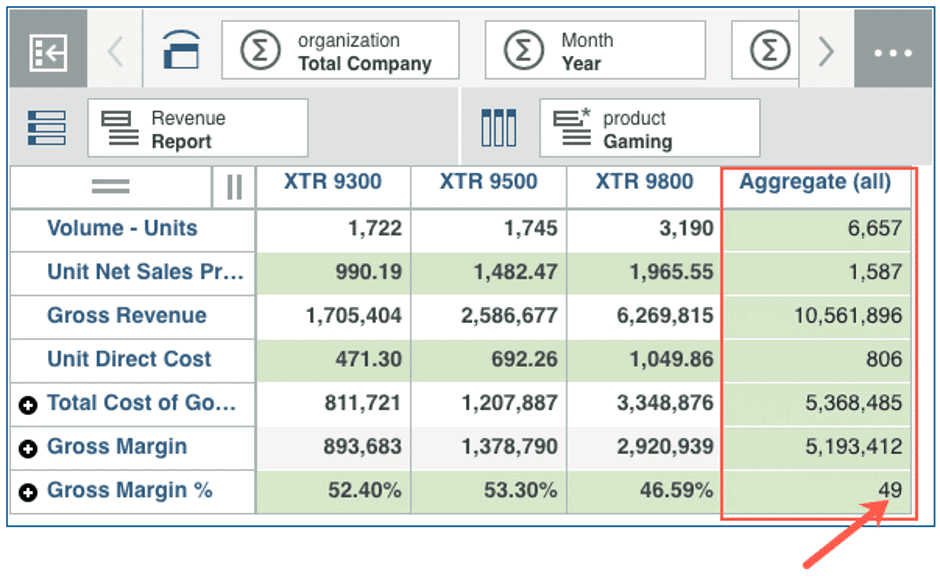 2.0.46 – What's new, 15 October 2019
Quickly set the data format in the view
You can now set the format of data by column and row directly in the cell view. This is a nice feature that will make it easier to change formats whist viewing data.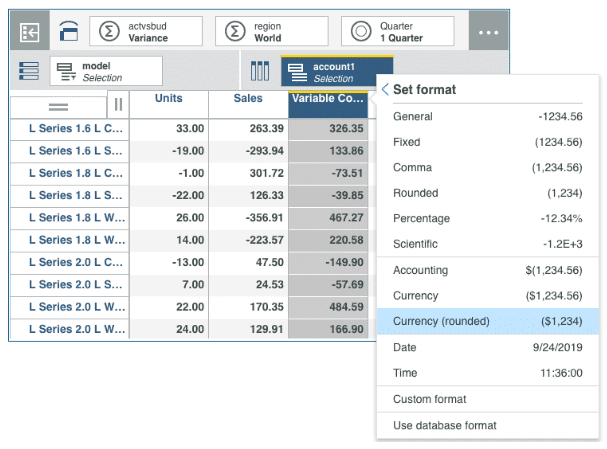 Drill up on visualisations
Previously, you could only drill up on visualisations that had been drilled down on by pressing the undo button. Not only was this cumbersome but a little unintuitive. Having a drill up option next to the drill down is a feature that users will inherently look for.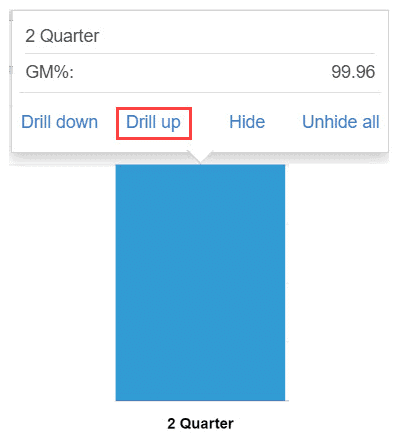 See thresholds and alerts for individual databases from the database activity report page
Being able to apply unique threshold and alert settings for each database is extremely useful. This will help administrators maintain and monitor their environment proactively.


View system resource thresholds and alerts combined in a single configuration page
This complements the above update of setting thresholds and alerts. You can now configure system resource thresholds and alerts on a single page in Planning Analytics Administration. It provides greater control over multiple Agents as you can uniquely apply settings per agent whilst viewing everything in the one page.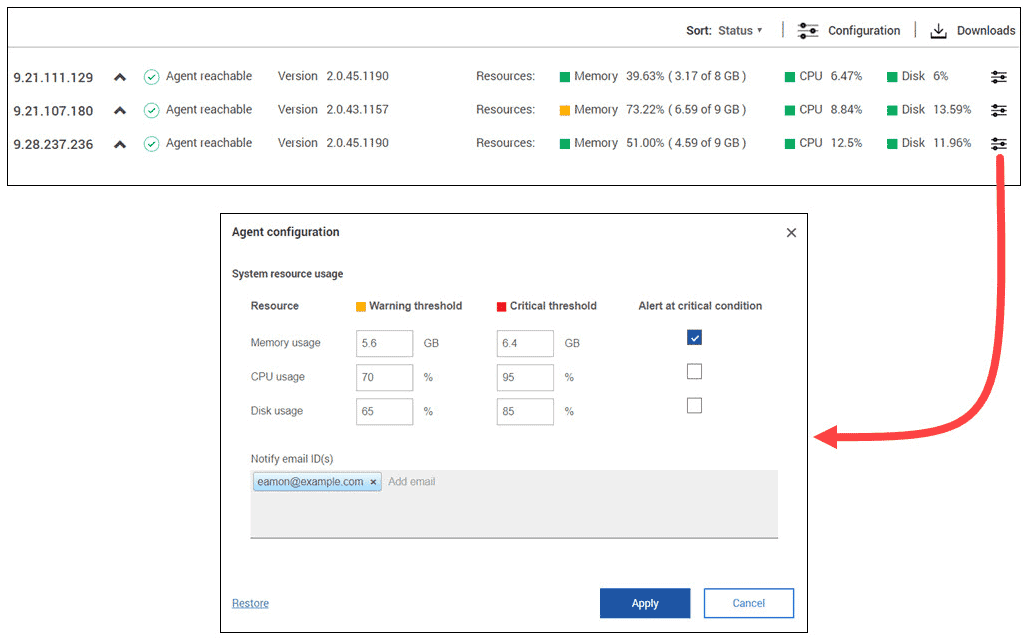 2.0.45 – What's new, 21 August 2019
Give your dashboards a corporate look and feel using custom fonts and chart palettes
A lot of clients want the ability to create dashboards using their company colours and branding, but previous versions of Planning Analytics Workspace did not allow for that. With this update, not only can we now create more customised dashboards for our clients but also introduce this capability to previously hesitant customers.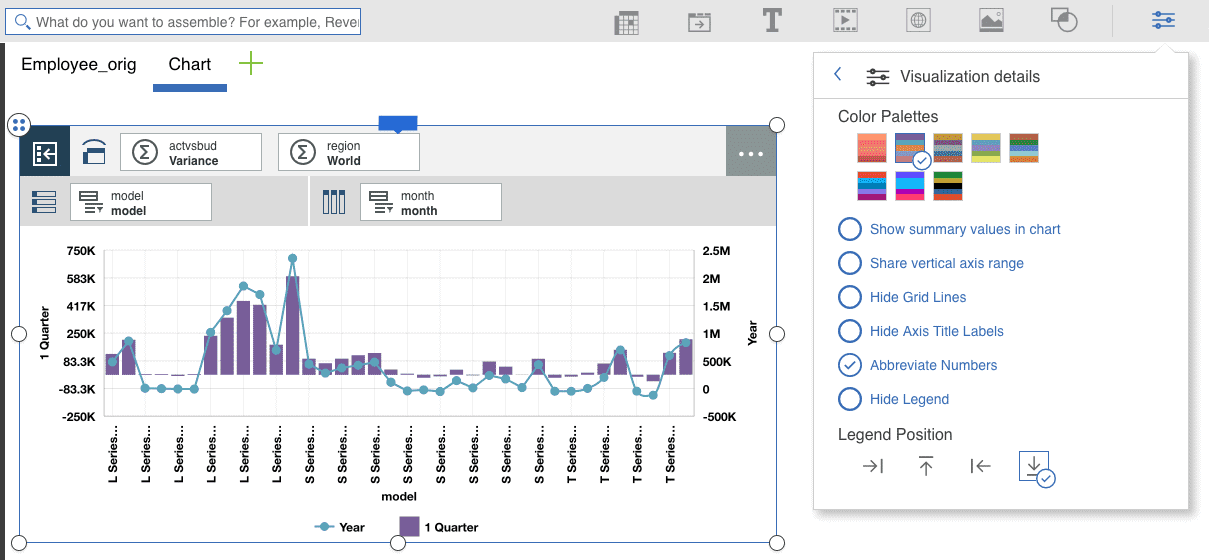 Show parents and children of members in the dimension editor
This is useful to identify if the correct member has been used in a set. It allows for quicker analytics and selection which will be helpful to users.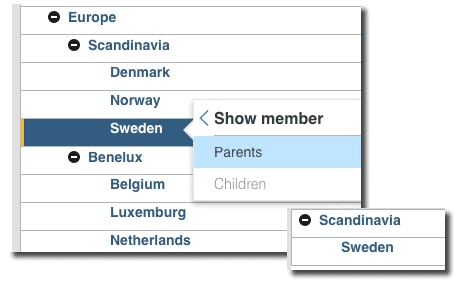 2.0.44 – What's new, 24 July 2019
Share views between Planning Analytics Workspace and Planning Analytics for Microsoft Excel
Previously, views created in Planning Analytics Workspace could only be seen within Workspace. This led to some duplication in effort when using PAX as view editor or an exploration needed to be used to re-create views.

Refresh a book after executing a process from a button
Now, when a process is run in Workspace you select if the book should refresh after finishing. The benefit of this is that any dependant calculations are updated, without the need to press refresh on the toolbar.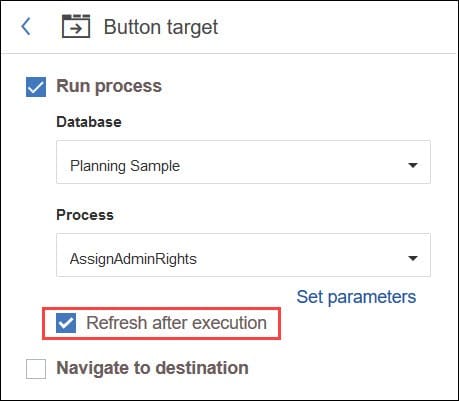 Create user groups in the Settings editor
You can now easily create user groups within Workspace, which makes the task of assigning group security more straightforward for administrators.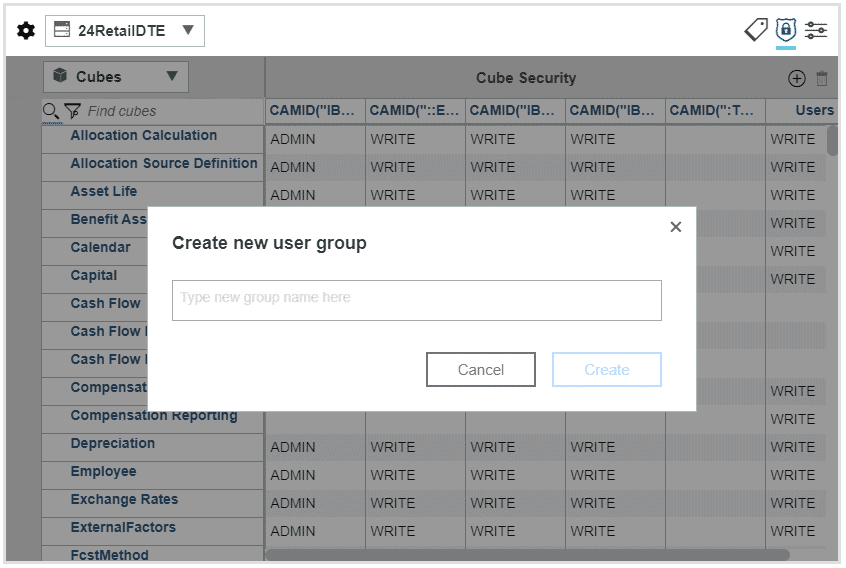 2.0.43 – What's new, 20 June 2019
Prevent data updates to cubes
This is an interesting concept because most people assume data updates should not occur asynchronously. Some potential use cases are to update specific cubes, prevent metadata updates or archive a retired cube and its data. I believe most people will not need to use this functionality on a regular basis. However it does have practical benefits.

Smaller tiles on the Welcome page use space more efficiently
Whilst a purely aesthetic update, I hope this is a prelude to more user customisation. The tiles are simple with a white background. In the future I hope users may be able to add specific designs/icons to help differentiate books visually.

View process error log messages directly in Planning Analytics Workspace
Previously, viewing logs could not be done in the Planning Analytics Workspace. Having this now is useful as it reduces the navigation process to open logs and identify errors, and makes logs available to end-users, rather than needing to maintain separate logging cubes.

Export to Excel now includes attribute values that are displayed in the view
Looking at attributes in view helps further analysis and understanding of data. Exporting attributes to Excel will be enable users to take their analysis offline.
2.0.42 – What's new, 24 May 2019
Organise users into groups to make object security easier
You can now create, export, update and delete groups in Planning Analytics Workspace. This has been highly requested and will make security assignments a lot easier to manage.

Create and edit sets from the content tree
This update takes updating a set from two steps to a one step process. It streamlines opening/using the set editor.

Manage the vertical axis range to create more informative Line and Column visualisations
You can now share a vertical axis range for line and column visualisations. This means two measures can share an axis resulting in tidier graphics. Previously, two measures would be displayed on separate vertical axes.

View properties and multiple attributes in the set editor
You can now view multiple attributes and member properties in the set editor. This is useful as it gives a holistic view of the dimension and its properties.
2.0.41 – What's new, 12 April 2019
Define drill-through directly in Planning Analytics Workspace
You can now create and edit drill rules/processes in Workspace. This provides more flexibility for reporting and analytics. For example, providing the ability to drill through to transactions from a Profit and Loss cube.

Fine tune your levels
The set editor now lets you use greater than/less than operators to define levels in a hierarchy. The benefit is users can now create dynamic hierarchy selections based on ranges of levels.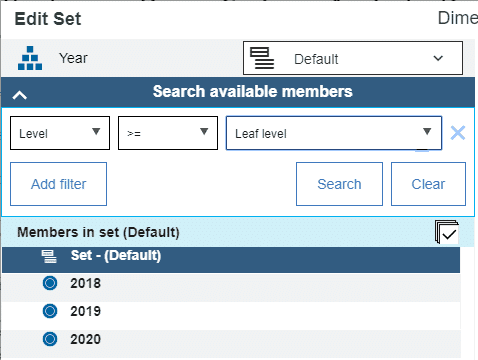 Quickly see what's dynamic
The icons between dynamic (predictive) and static (current) sets are now different. This helps users quickly identify if they need to manually update a set or if it should dynamically change.